Presentation
Difficult but panoramic climb up Matajur along the ridge of the Natisone/Nediža valley, and descent along the most traditional route through Savogna/ Sauodnja and the Alberone/Aborna valley.
Description of the route
From S. Pietro al Natisone/Špietar climb to Klančič, then to Mezzana/Mečana and to the hamlets of Rodda Alta/Gorenj Ruonac. From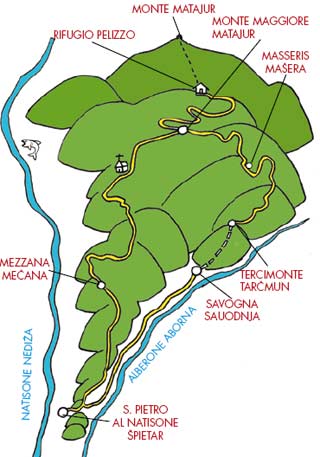 Tuomaz/Tuomac take the road to Mersino Alto/Gorenj Marsin. From Passo Glevizza/Hlevišča arrive at Montemaggiore/ Matajur, with the possibility to climb the highest mountain of the Natisone valley. Descent from Tercimonte/Tarčmun and Savogna/Sauodnja.
Length
The total length of the route is approximately 42km. Here are the kilometres for each section: S. Pietro al Natisone/ Špietar-Mezzana/Mečana 4.5km; Mezzana/Mečana- Tuomaz/Tuomac 4km; Tuomaz/Tuomac-Medves/ Medvieži approximately 4.5km; Medves/Medvieži- Montemaggiore/Matajur 6.5km; Montemaggiore/ Matajur- Pelizzo Refuge 3.5km; Pelizzo refuge -Tercimonte/Tarčmun 9.5km; Tercimonte/Tarčmun- Savogna/Sauodnja 3km; Savogna/Sauodnja-S. Pietro al Natisone/Špietar 6.5km.
Altitude
Approximately 1280 metres. Altimetry:
S. Pietro al Natisone/Špietar 174m;
Mezzana/Mečana 463m;
Scubina/Skubini 575m;
Medves/Medvieži 785m;
Passo Glevizza/Hlevišče 997m;
Montemaggiore/ Matajur 955m;
Pelizzo Refuge 1325m;
Tercimonte/ Tarčmun 644m;
Savogna/Sauodnja 210m.
Level of dificulty:
Very high as a result of the height.