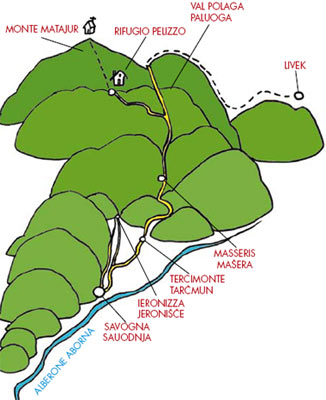 Presentation
A rather long Itinerary but of extreme interest and is not difficult. Advisable in spring or autumn.
Description of the route
Departure from Savogna/Sauodnja, climb up towards Stefenig/Stiefinči, Tercimonte/Tarčmun, Vartacia/Vartača, Masseris/Mašera,
Val Polaga/ Paluoga, Pelizzo Refuge.
Length
The total length of the route is approximately 15km. Here are the kilometres for each section:
Savogna/ Sauodnja-Masseris/Mašera approximately 6km;
Masseris/Mašera-Pelizzo (via val Polaga/Paluoga) approximately 9km.
Altitude
Approximately 1100 metres up to Pelizzo Refuge. Altimetry:
Savogna/Sauodnja 200m;
Tercimonte/ Tarčmun 644m;
Vartacia/Vartača 624m;
Polaga/ Paluoga Valley 1221m;
Pelizzo Refuge 1325m;
Mount Matajur 1641m.
Level of dificulty:
Medium